This post is also available in: Deutsch
What does a purchaser do? I'm asked this question every now and then. The answer, of course, is that they purchase whatever is needed for a big company. But that means much more than you might think at first.
It has been more than seven months now since I have successfully completed my studies. Since then, I have been responsible for the procurement of indirect materials in the European purchasing department. This includes all things required for the manufacturing of products that are not directly integrated into the products. These include both production machines as well as services.
The company really appreciates my contribution. Even unconventional ideas fall on sympathetic ears.
I am part of a large, international team that consists of employees in the plants and a strategic manager at the headquarters in Maintal. I support purchasing large capital goods, but also developing strategies for the entire region. Within my first seven months, I have already independently managed and coordinated several purchasing projects.
I'm specialized in digitization in the purchasing sector. The keyword is e-procurement, or electronic procurement. This topic is currently a big trend and many companies are dealing with it.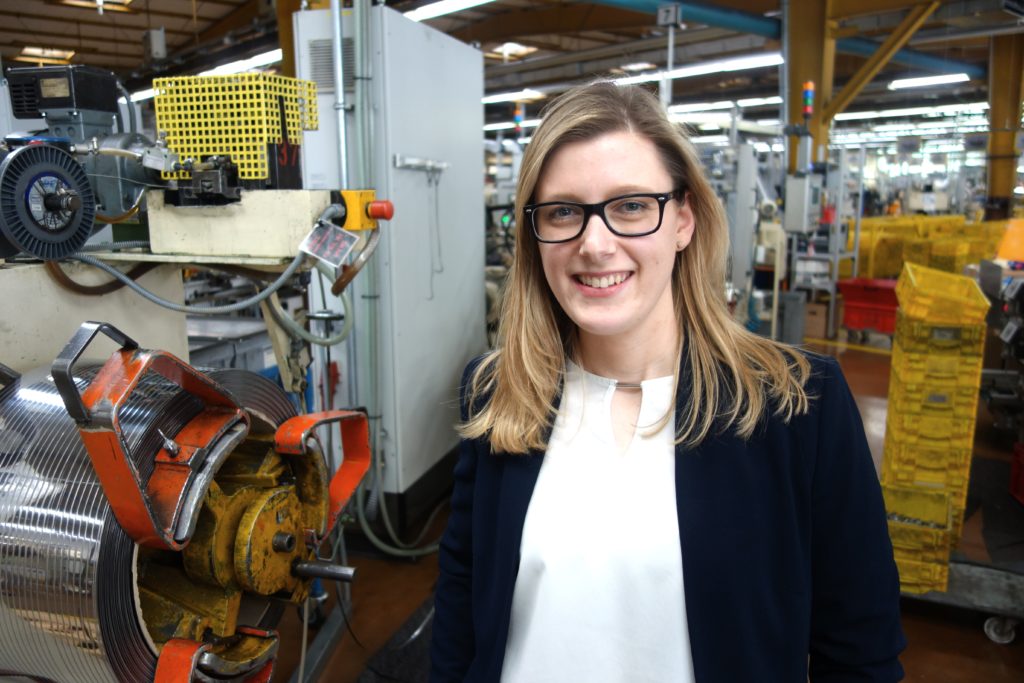 How do you combine a lot of different data from an almost unmanageable number of suppliers, especially for an international company? How do you manage the same standards and processes worldwide?
At NORMA Group, I'm right in the middle of this very exciting question. I recently managed, together with a colleague, a project to introduce a worldwide e-procurement software. I had previously been to many interesting courses and events.
Solving Problems with E-Procurement
I wrote my master's thesis in 2016 on digitization in purchasing. My conclusion was essentially that many problems can be solved with electronic procurement if the data basis is sufficiently large and structured.
In the summer of 2014, before I started my master's degree in management, I was looking for a graduate position. That is how I came to NORMA Group. The job description sounded interesting: a large SME growing pretty quickly, operating globally and offering young people a lot of space.
There are many young people in the global teams. A lot of graduate students keep working here because they are offered long-term opportunities. That's how it was for me.
Facts: purchased raw materials
Each year, NORMA Group buys about 45,000 metric tons of steel and some 30,000 metric tons of plastic to produce a wide range of joining products.
Facts: material usage rate
The material usage rate calculates the material costs in relation to sales. NORMA Group decreased this value from 44.5 to 39.4 percent between 2010 and 2016.
Facts: e-procurement software
Since 2014, NORMA Group has gradually introduced an electronic solution for global purchasing to replace Excel tables with standard reports at the push of a button.
Facts: international teams
Around 100 employees work in purchasing worldwide – dispersed across the various raw materials and indirect material.
At first, purchasing was completely new to me. I had worked at a bank before. But I missed the tangible – seeing what comes out in the end. That's why I decided to enter the manufacturing industry. I found exactly what I was looking for: I was guided through the factory and could see and touch what was being produced there. "Look, we fit this clamp into a car!"
Jumping in at the deep end in the beginning didn't scare me. My team welcomed me and helped me in a fantastic way. Even before my first day of work, my boss invited me to the Christmas party. It was great to be able to get to know my future colleagues there.
Having Responsibility Quickly
After my first one and a half months, the first module of the new e-procurement software was launched. After that, I had to develop materials to train all of my colleagues in purchasing worldwide. And completely on my own.
It was a big challenge to have so much responsibility. At the same time, it was great to have my own project right away and really getting things done. I noticed that the company really appreciates what I can do and what I contribute. Even unconventional ideas fall on sympathetic ears.
Jobs at NORMA Group
In Group Purchasing, we are regularly looking for working students, trainees and young professionals.
Teamwork and strong communication skills as well as an independent, result-oriented approach are important.
A bachelor's or master's degree, preferably with specialization in purchasing or supply chain management, is mandatory. You are interested?
From that point on, it was clear to me I wanted to stay at NORMA Group. After four months, an offer came for a permanent position after graduation. I didn't need long to think it over. It allowed me to work on my master's thesis much more calmly. During the writing phase, the great flexibility provided to me helped me to write the thesis.
Thanks to my positive experiences, the great support during my whole development, and a lot of helpful feedback, finally I went from being a working student to becoming a purchaser. NORMA Group made this very easy for me. Now, in my new role, I use the digital structures that I have built and introduced during my time as working student.