This post is also available in: Deutsch
Taking on my own projects, getting familiar with the basics of human resources management and getting insight into the atmosphere of a group – that was my wish list when I started looking for a student trainee position. After a year with NORMA Group, I can say: it had it all!
I found out about the job advertisement for NORMA Group when I was looking for a working student position in the Frankfurt area. It was a leap into the unknown. At first, I didn't have a very clear idea of what tasks awaited me. I was surprised at how widely diversified the field of work in an industrial company is.
My time at the company has contributed significantly to my personal development, as I was able to work largely independently.
With an international team, I revised global key figures for Human Resources. A general challenge to this is that certain key figures are understood differently around the world. Two examples: sick days are often calculated differently in the US than in Europe, and regulations on maternity and parental leave vary widely around the world.
My job was to update the definitions for all 33 Human Resources figures so that there still would be no room for misunderstanding. Since any group has to publish its key figures in its annual report and sustainability report, there can't be any room for different interpretations.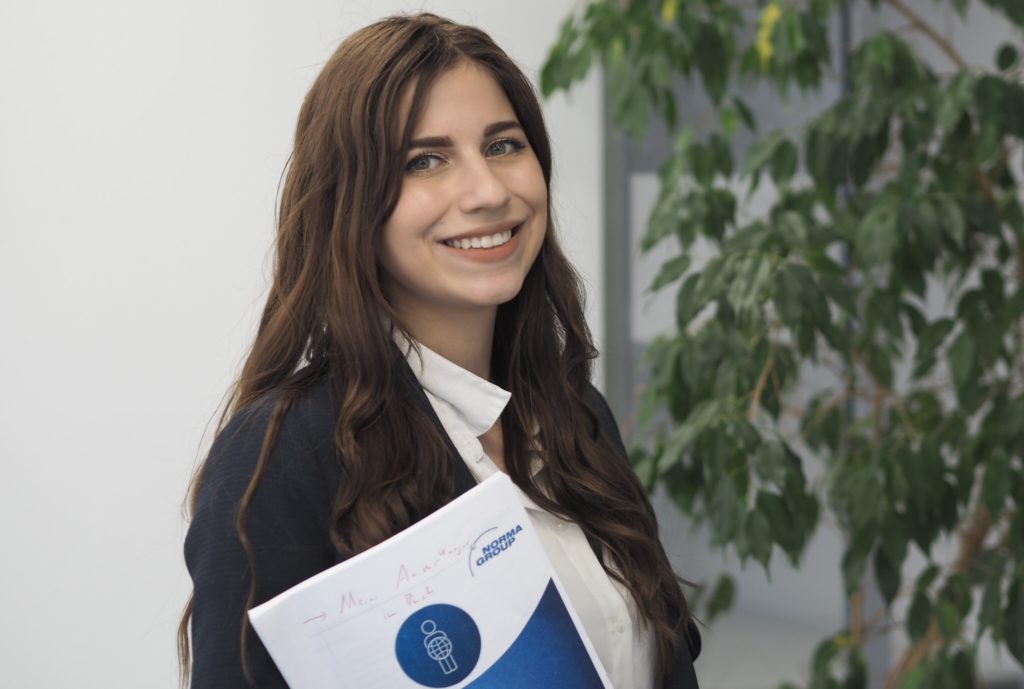 I didn't realize yet that this task would become my own project, and that I would have to collaborate with coworkers from NORMA Group locations in Asia, Europe and the Americas. It was a massive organizational effort. I had four permanent contacts: in Maintal, Singapore, California and Russia. English was the project language.
Clearly, my project wasn't always a walk in the park. Some coordination processes led to disagreements among participants on definitions. Now I know that that is very normal with projects like this. The first draft of our 80-page key figures guideline was ready after only two months, and was proofread by many colleagues around the world in the first round. My task now was to filter and analyze the many views and requirements and to revise the document accordingly.
International Work Environment
This required a constant process of exchange with coworkers from various departments around the world, which I structured and recorded. I prepared meetings and presentations and expressed my views on the global directive. This international experience helped me develop business English fluency on a contractual level.
My next goal was to apply the global guideline to the individual NORMA Group sites. Local laws had to be taken into account, of course. I developed a local document that sites could use to describe how they collect their metrics and what the local requirements are. Suddenly everyone knew my name as the contact person for all questions about this document.
Many Practical Experiences
Within the scope of my tasks, I trained employees, prepared presentations and presented to large audiences. This will certainly help me in my further professional life.
My time at NORMA Group has given me deeper insights into Human Resources. It has contributed significantly to my personal development, as I was able to work largely independently and developed strong self-management skills. You can't learn all that at college, but only with practical experience.
Jobs at NORMA Group
We are always looking for working students, trainees and young professionals from many areas. We value teamwork, strong communication skills, good command of English and a results-oriented, independent working style.
Some positions require a bachelor's or master's degree with specializations in engineering, purchasing, supply chain management or quality.