This post is also available in: Deutsch
In our NORMAPeople series, employees around the world talk about their day-to-day work, how they came to the company, and what they appreciate most about their jobs.
Filipa Castro and Micaela Rocha from Águeda, Portugal, Baptiste Berthelot, Estéban Brillet and Thomas Peslerbe from Guichen, France, and Brandon Werth from Auburn Hills, USA, all work as working students at NORMA Group. In this interview, they talk about their daily work routines and the challenges they face as working students.
What tasks are involved with your job?
Baptiste, Apprentice Project Engineer: I started at NORMA Group about five months ago. My daily work routine includes a range of project-management related tasks.
Brandon, Intern Supply Chain Management Department: I have been with NORMA Group for six months. My tasks include the preparation of the shipment report, among other things. In it, I record all shipments made during the last 48 hours. The report allows us to track all shipments including those that cross national borders. I also create a daily report that summarizes our current orders and support my team wherever any assistance is needed.
Brandon Werth, Auburn Hills, USA
Micaela, HR Intern: I have been with NORMA Group since April 2021. My job mainly consists of assisting the HR department when it comes to payroll, conducting training, and recruiting new employees.
Estéban, Apprentice Process Engineering Technician: I have been involved in various projects since I started work in September 2021. My tasks include following the industrialization of new or renewed molds. Also, I have several projects regarding the development on the control of products.
Filipa, Accounting Student: In the finance/accounting department, I have been responsible for tasks from the areas of accounting, customer and supplier invoices, as well as earnings and income control since August 2021.
Thomas, Apprentice Designer Technician: I have been with NORMA Group since September 2021. Since then, I have been working on many small tasks. I make modifications and drawings of components and products, for example.
Thomas Peslerbe, Guichen, France
What do you like most about working at NORMA Group?
Filipa: I study accounting. My studies cover a variety of topics from the fields of finance and management. My job at NORMA Group gives me the opportunity to put my theoretical knowledge into practice. I learn something new and continue to develop every day. My colleagues give me the feeling that my work is valued. And that is something that makes me proud.
Brandon: I really enjoy the diversity, every day offers me opportunities to gain new experiences. Complications or challenges are part of it – but I really enjoy familiarizing myself with new topics in order to find and implement solutions. The practical experience at NORMA Group helps me to expand my existing knowledge. I study Supply Chain Management at Wayne State University, so my studies are directly related to my job.
Micaela: The variety is what I like best, too. I can never predict in the morning what the day will bring.
Estéban: The main focus of my studies is plastics and composites which gives me a direct link between my studies and everyday working life at NORMA Group. It also allows me to get to know the working world while I'm still studying.
Thomas: I study eco-design of mechanical systems at the University of Rennes. At NORMA Group, I work in the design department.
What are the biggest challenges associated with working as a student trainee at NORMA Group?
Micaela: At the moment, I'm completing my master's degree in retail management. Juggling personal, professional and student life is often a challenge. It's important to make sure that you don't let anything fall by the wayside.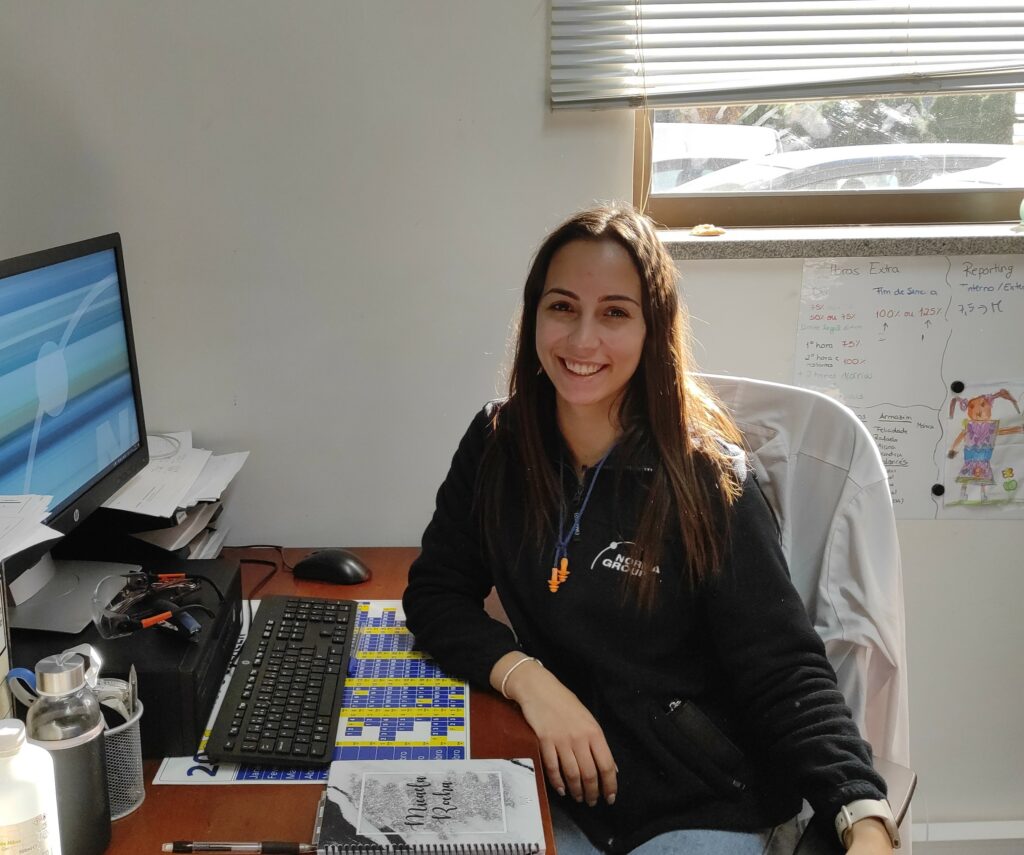 Micaela Rocha, Águeda, Portugal
Baptiste: As a working student in the field of project management, I have an opportunity to gain new insights into the structure and conception of various corporate projects every day. The biggest challenge for me is to put the topics I have learned in theory into practice. My colleagues are a great help here, because they support me in every way.
Filipa: For me, organization and time management are the biggest challenges. Studying and working at the same time takes a lot of discipline and ambition, and you don't get a lot of sleep. That's why it's important to set priorities, so there's also time for your private life and for breaks. And without regular breaks, none of us can perform well. Despite the challenges, being a working student is worth it: I can build up a network and gain experience. That's the only way I can continue to develop.
Brandon: Combining study and work can be difficult. So it is important to have a good plan to be productive in all areas and to stay that way.
Estéban: It's not a big challenge for me – I like that I can finally use the skills I've learned in school. But it is true that we must be conscientious in order to complete the work required.
What is special about being a working student at NORMA Group?
Thomas: Although I'm still a student, my colleagues make me feel like part of the team. No one differentiates between team members who work full time, part time, or as a working student.
Brandon: I completely agree with that. I'm involved in a lot of exciting projects and various meetings. I learn a lot for my future along the way and gain experience that helps me grow professionally.
Filipa: That's how I feel, too: At NORMA Group, I have the opportunity to contribute my ideas and help shape the future of the company. And I am always supported by my colleagues. I have the freedom to think outside the box. The focus is always on continuous improvement and further development, both on a company level and personal level.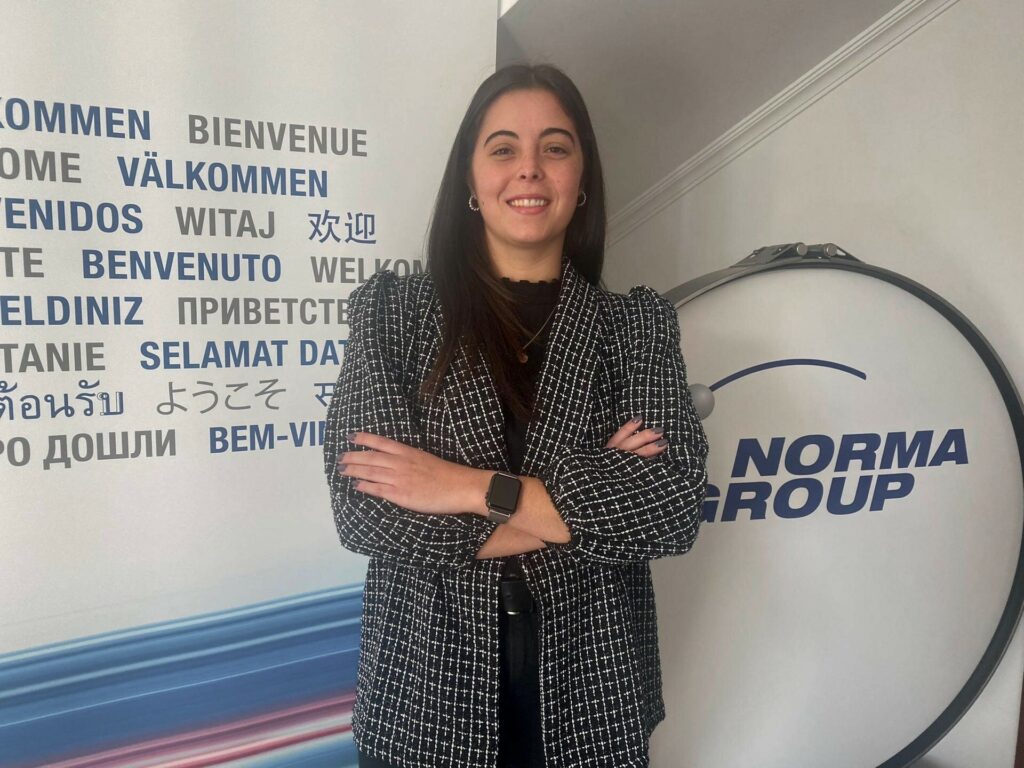 Filipa Castro, Águeda, Portugal
Baptiste: NORMA Group is an international company that enjoys a high reputation. The global link gives me the opportunity to work with colleagues from all over the world. It is very exciting to get to know so many different cultures.
And to wrap things up: What is your advice to someone who would like to be a working student at NORMA Group?
Micaela: Learn how to manage your time productively right from the start. Otherwise, you won't have the energy to be happy in all areas of your life. 
Brandon: Exactly. Do your best and be organized. My supervisors are very understanding and cooperative about my work schedule. And because I quickly learned to be organized and focused, I can balance my studies and work without feeling overwhelmed. Don't overwork yourself and don't be afraid to speak up when it's too much for you. Everyone at NORMA Group wants you to succeed – in your studies and at work.
Thomas: I'm very happy to be here. So if you see a job posting that you think could be a good fit for you, just apply. You won't regret it.
Baptiste: That's right! Take the plunge and apply! Working at NORMA Group is a great experience, and one that is enriched by international exchange and exciting projects.
Filipa: New employees bring new ideas and visions, which drives the company forward. NORMA Group is a great place to start your career and learn about the business world. As a working student, you are integrated into large projects from the very beginning – you are part of the team and contribute to the success of the company.