This post is also available in: Deutsch
Ornate marble on the left, golden water faucets on the right. Design radiators are lined up next to luxurious glass shower cubicles and saunas. A few steps further, a young boy is sitting on a toilet. But only to try it out.
The ISH 2017 attracts around 200,000 visitors from all over the world on four days. They fill the halls of the International Plumbing and Heating Fair in Frankfurt/Main with life.
Saving Water is a Central Theme
About 2,500 exhibitors show the latest trends in building technology, sanitation and bathroom design. This starts with the Bathroom 4.0, which can be controlled by app and smartphone. This then goes seamlessly over to the smart house with digital heating, which is partly powered by renewable energy. And it finally ends with shower heads with sensors and toilets without rinsing edges. After all, saving water is a central theme.
What are the trends in joining technology in these areas? Highly durable and robust products that can be used in various applications are in great demand.
ISH 2017
NORMA Group's booth is located in hall 6.0, booth D 61.
ISH 2017
Around 2,500 exhibitors from 62 countries will present their innovations at the fair.
ISH 2017
The exhibition space is over 260,000 square meters in size and spread over 22 hall levels.
ISH 2017
Most exhibitors come from Germany, Italy, Turkey, China, Austria and Spain.
Martin Hruban is standing at NORMA Group's booth in hall 6.0 and welcomes two visitors. The conversation with the Sales Manager for Eastern Europe and North Africa quickly comes to pipe couplings for wastewater pipes. A large construction project is in the works.
Until now, the two trade fair visitors have been buying their products from a regional supplier, but he is too expensive, they say. "How high is the pressure that the pipes have to withstand?" asks Martin Hruban. "Up to 10 bar," they answer. "That is absolutely no problem at all," says the Sales Manager. The three exchange business cards and say goodbye. Then more visitors show up. With a wide range of concerns.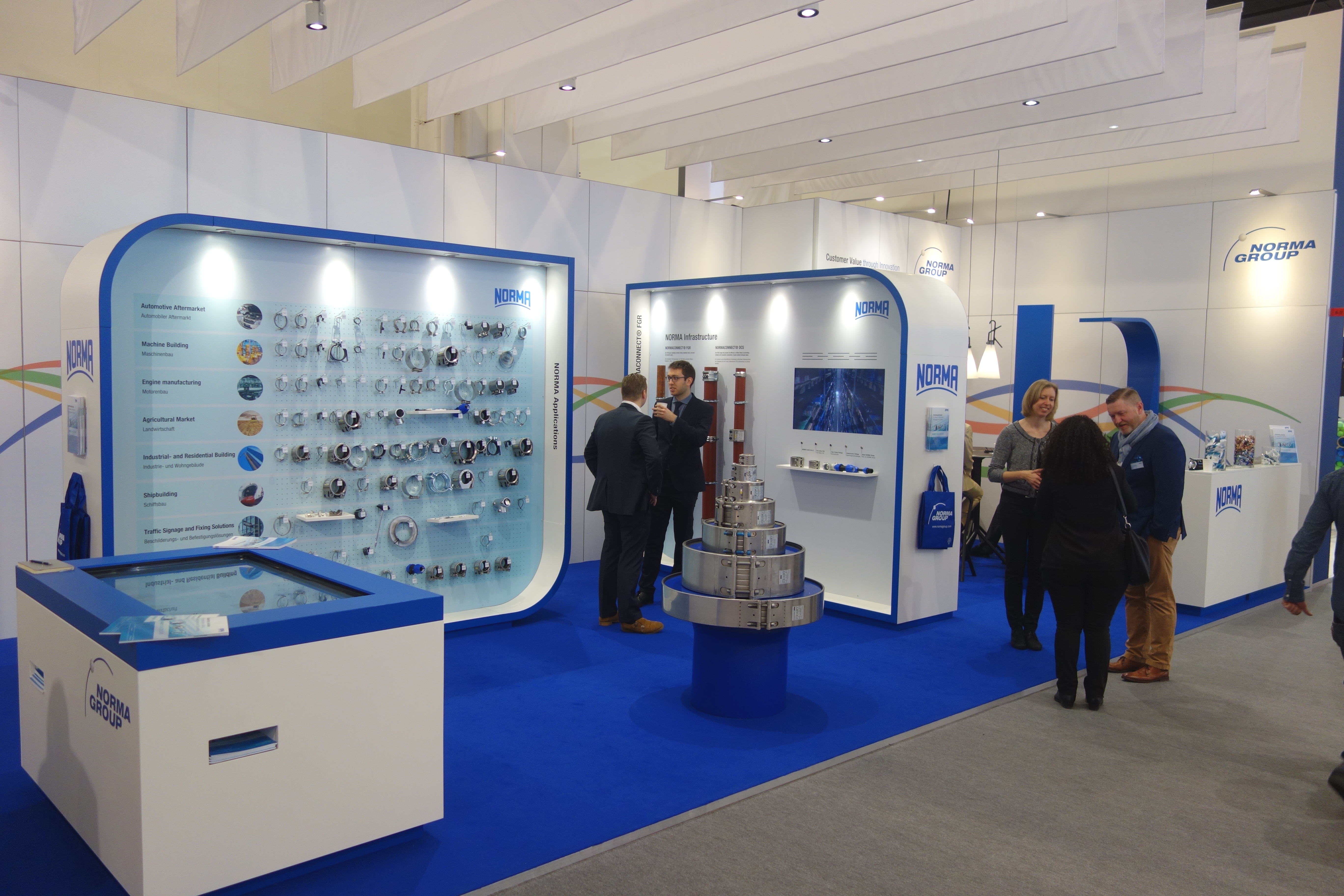 This diversity is also evident on the large wall at the NORMA Group booth with its 135 hooks. On each individual hook is a clamp or coupling sorted according to different areas such as building technology, construction, water management, but also mechanical engineering and the automotive aftermarket.
"It is an aha experience for some visitors that we offer the right solutions for so many different areas," says Maria Oberle. "This is a real advantage, particularly for companies operating in various fields." The Marketing Manager for the Europe, Middle East and Africa region is responsible for the booth and the presentation at the trade fair.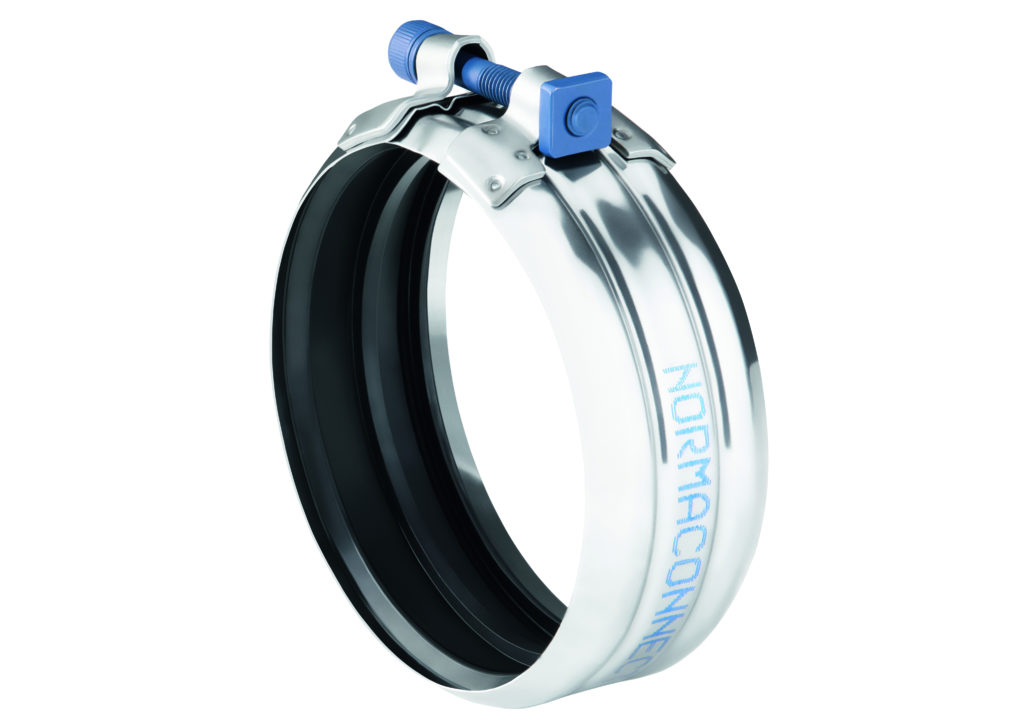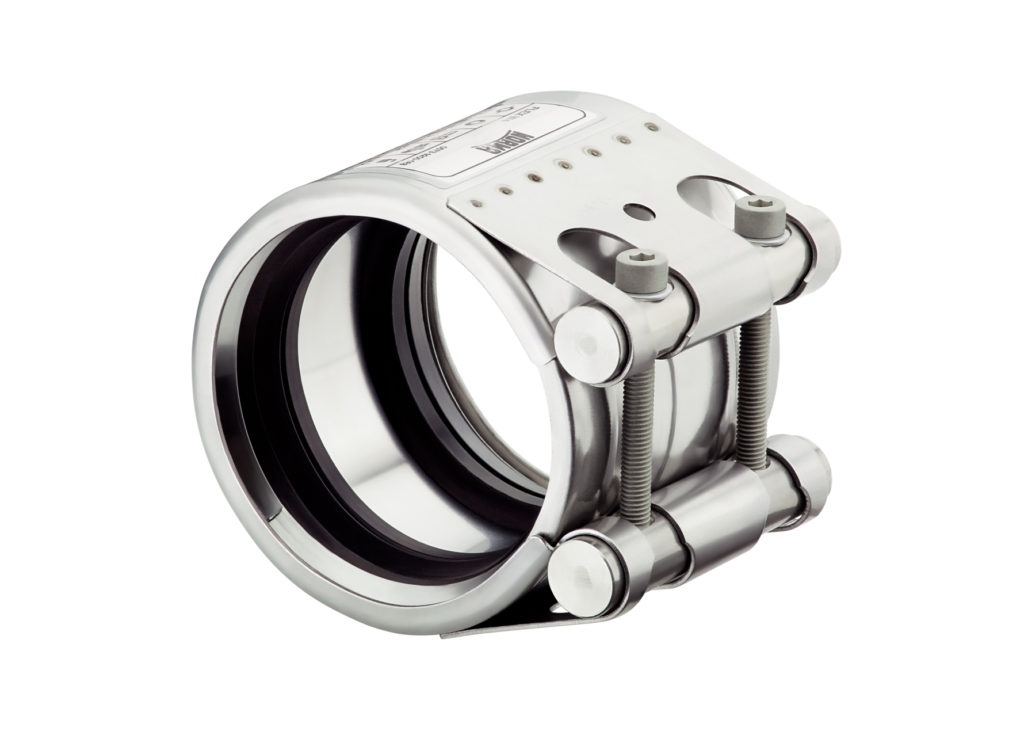 Burkhard Nowack explains what types of other customers visit the booth. Installers and heating engineers were looking for joining products that are quick and easy to work with," says the Sales Manager for Central Europe.
Architects and planners, on the other hand, need complete system solutions that exactly suit their project – including fire protection, sound insulation and all other requirements that must be observed. Wholesalers are interested in products that are in high demand in the respective markets. "We can meet the different needs of all these target audiences," says Burkhard Nowack.
But then the Sales Manager has to apologize. A buyer for a company that has been a customer of NORMA Group for many years has comes to the booth. And, of course, he always takes the time to have a conversation, with a business partner as well as an interested visitor.