This post is also available in: Deutsch
In our NORMAPeople series, our employees from around the world report on their daily work, how they joined the company and what they appreciate about their work.
As an Accounts Receivable Officer in the Dandenong South NORMA Group offices, Maddie Rathnayaka, knows what it takes to reach thousands of customers and manage a complex enterprise resource planning software – artistic cake baking.
Born and raised in Sri Lanka, Maddie moved in 2009 to Australia to complete her degree in Accounting and develop her career. With a database of around 7,000 customers in the APAC region, she has been given the responsibility of managing almost half of the client portfolio since her start at NORMA Group in December 2019. In the following interview she explains how she got into NORMA Group, how she has managed to overcome the challenges of a multinational company, how her new job despite the corona pandemic is developing and what accounting and cake art have in common.
Maddie, you began working at NORMA Group just a few months ago. How would you describe your job? 
Simply put, I chase the money. I'm in charge of being in constant contact with our customers and collecting money from them. Besides that, I also do bank reconciliation. I enter daily banking transactions to our ERP-system and make sure that our actual bank account balance is in tension with the system balance. These are never ending projects. The job may be routinuous and time consuming, but every customer is unique. It keeps me on my toes, I am interested and excited all the time.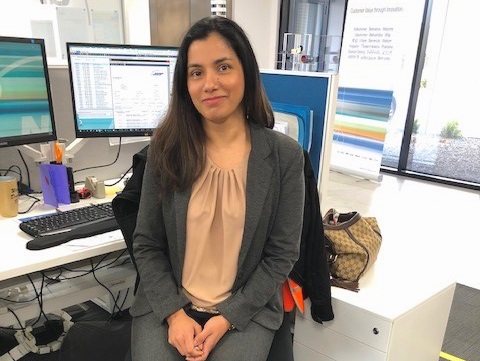 Maddie at her office in Dandenong South, Australia
What do you consider most interesting about your new job?
In my previous job I only had a small customer base of about 200 to 300 accounts and was also in charge of several other tasks closer related to production and purchasing. I was looking for bigger challenges and developing my skills, that's why I came to NORMA. Here, I work only on the accounts receivable side, which allows me to focus on strategy with customers. Since I now take care a customer portfolio that is ten times bigger than what I was used to, my workdays have become much more dynamic. It's like being a detective: I have to track down customers, get to know each one of them and their cases, and identify the best approach to achieve what I need from them. I'm the detective of big numbers and that's what's exciting.
What has been the hardest part of your job so far, and what is the easiest?
What I've had the most trouble with is adapting to our ERP-system and managing the large customer base with it. Facing the complexity of the system and suddenly being responsible for thousands of customers was very challenging at the beginning. But after a few months I am getting better and better at it. That's also what I am most proud of. The easiest part of the job is getting my morning coffee.
What do you look forward to every morning?
I look forward to finishing my bank report, I want to see balance at the end of the day. It's kind like a small satisfaction, seeing balance feels like I've done something great or better. It's not a big deal but for me it's my personal little success.
Just three months into your time at NORMA Group, the pandemic caused you and many others to work at home. How is home office working out for you and what do you miss the most about being in your office?
I must say it was hard at the beginning, just as for everyone else. Once I got the same equipment from my office, it became much easier and I could work just as effective. Now I got used to new routines and home office is working great. My communication with clients hasn't changed at all. However, who I do miss are my colleagues, of course. I miss the random chitchatting and listening to the radio together. We had a very nice environment and I am looking forward to being back in the future. For now, we communicate daily through calls and make the best of what we can!
What about your time outside work? You have gained quite a reputation for your baking abilities among your colleagues, what exactly do you bake and what brought you to that?
I bake mostly creative cakes, but sometimes cupcakes and other forms of pastry. I began almost three years ago when I was in my maternity leave. I never knew I could even do cake art until a friend of mine, who was getting married, asked me to do one for her. After a few YouTube videos and buying the necessary equipment, I succeeded at creating a beautiful cake. Everyone loved it and started recommending me to others. Suddenly, I started getting many orders and becoming more popular. Now, I have a Facebook and Instagram page where I get orders from. It has become quite a big hobby, but I love it!
A few of Maddie's artwork: from multi-layered cakes and complex shapes to minimalistic designed concepts, Maddie can deliver anything imagination asks for.
With a full-time job, a time-demanding hobby and a young daughter, how do you organize your days?
I work the usual 8-5 schedule. In the early evening I spend time with my family and later the evening once my daughter goes to sleep, I start baking. My days are quite full, but I have a lot of energy and a supportive partner who helps with housework and is happy to eat cake leftovers once I'm done. Besides, I love doing what I do and I've learned a lot from it. It turns out, it not that different from my job.
How are accounting and cake art similar to each other?
Customer service! Talk to people. At the end of the day, I have to make sure the customer is happy. I might be asking them for money, but still, I can't annoy them or make them feel in anyway upset or frustrated. Whether it is providing a delicious gorgeous-looking cake or the right clamps and hoses, customers should feel good about giving us their money in return.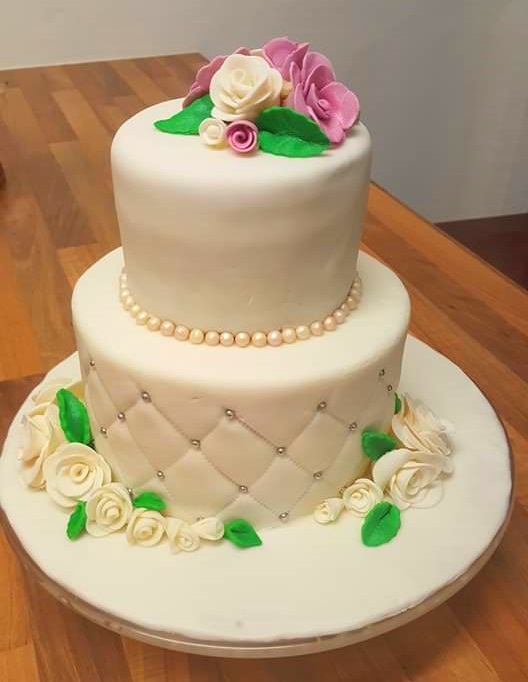 What was your childhood dream job?
Since I was eight years old, I wanted to be a doctor because I grew up thinking that was the best profession. But when time came to choose my career, I realized that was not something I wanted to do. I was enjoying more working with numbers and ended up choosing accounting.
Last question. Now that you have developed a career in accounting and a successful hobby in creative baking, what are your goals for the future?
First, I want to be a success in accounting. My main short-term goal is to become a licensed Certified Public Accountant (CPA), which can be only obtained by passing a very difficult exam. I would be happy to reach that. On a longer term, when my daughter is bigger, I want to go back to my home country. I would love to build an orphanage for homeless kids in Sri Lanka. That is something I've always wanted to do and would still plan for the future. And regarding baking, I'll keep doing that as long as I am having fun with it.