This post is also available in: Deutsch
Martin Suneson is Plant Project Manager at NORMA Group in Anderstorp, Sweden, where he works on projects from many different countries and industries. In this article, he reports on an exciting project in the Arctic, Norwegian North Sea.
In the icy Norwegian North Sea, some 40 kilometers off the coastal city of Tromsø, there is an offshore fish farm system whose electricity and fiber optic supply are secured thanks to one of our most durable hose clamps, the ABA Original SMO. They are very important components of the subsea cable bend restrictor system. In other words, the clamps secure the seal at the bends of the electricity and fiber optic cables and thus prevent cable kinks from occurring.

The ABA Original SMO hose clamp secures the seal and prevents cable kinks from occurring at the bends of the cables.
Our ABA Original SMO hose clamps are completely made of the material SMO 254. This rust-resistant austenitic stainless steel offers maximum resistance to pitting, crevice corrosion and various types of stress corrosion. The hose clamps are therefore particularly well suited for use in extremely demanding environments, seawater plants, the chemical and food processing industries and shipbuilding, for example. In these environments, the clamps are exposed to highly decomposing materials such as sea salt and chlorine, as well as high water pressure. But our ABA Original SMO can withstand this and therefore secures the electricity and fiber optic supply to the offshore fish farm system for the next 20 years.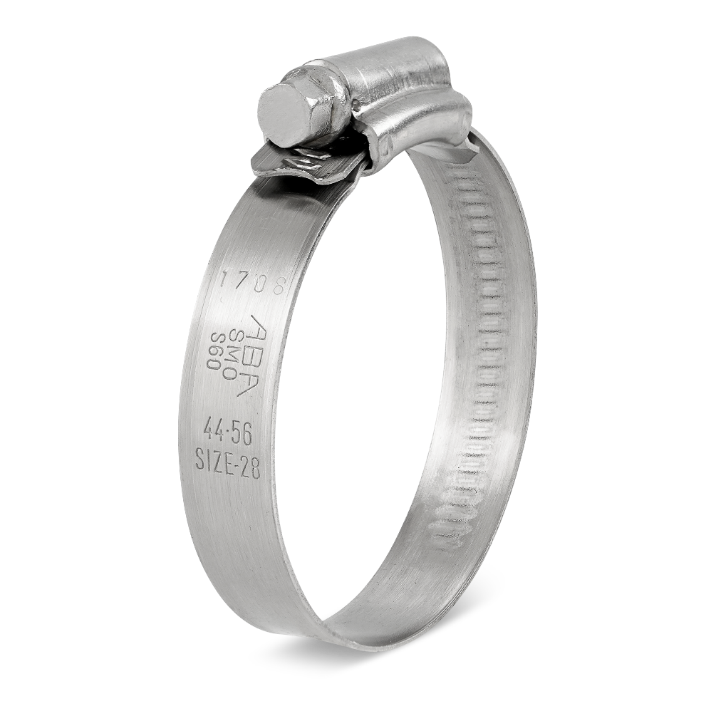 We supply the clamps to a long-standing customer, a Norwegian provider of services and products for operation and maintenance in various industries such as oil and fishing. For more than 25 years, we have provided this customer with many different products, for instance RSGU pipe support clamps, FGR pipe couplings etc., not to mention the full ABA range of products. For the project described above, the customer was looking for a product that could withstand Arctic weather conditions and without requiring maintenance. Together with the DS Nordic sales team we could present a customized solution using the ABA Original SMO clamp. The installation of the clamp on the bend restrictors are done by the customer.
To our knowledge this is a new area of usage for worm drive hose clamps and we are proud to break new grounds for using our products in such extreme conditions.
The ABA Original SMO are available in standard range from a diameter of 15 to 307. Larger diameters are available as band straps.