This post is also available in: Deutsch
I'm wearing black clothes today. With a white NORMA Group logo on my chest. Earplugs in, safety boots on my feet and work gloves on my hands. For a day, I've set aside the dress shirt and suit pants. For the next eight hours, I'm in another world.
I'm spending the day working in TORRO hose clamp production at NORMA Group headquarters in Maintal.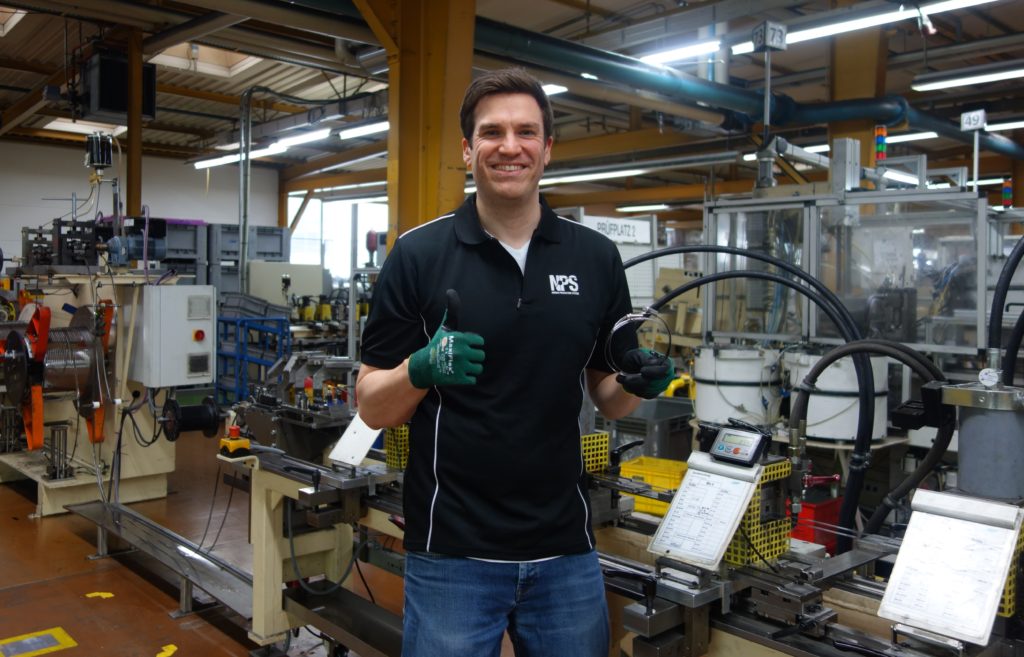 My tour starts at 8 o'clock, stopping in at various stations. Dry-erase boards are hung up all over with all kinds of information written with felt-tip markers. Current orders with unit numbers for instance. At every station, the team speaks with the employee responsible for machine operation. It's loud. The rattling of the machines is droning in my ears. Anyone who talks has to yell or lean close to someone's ear. The air smells like oil. The tour moves quickly on.
Afterwards, the team lets me watch them in action at production control. My eyes wander over the many colored bars on the computer screen. These are the customer orders being processed on the machines. The controllers plan the orders so that enough material is available and the machines need retrofitting as little as possible. Retrofitting means adjusting the construction of a machine to produce a certain clamp.
Manufacturing at NORMA Group
The production lines in Maintal run 24 hours a day, 7 days a week, over three shifts.
Manufacturing at NORMA Group
Each year, around 750 employees in Maintal ensure that more than 1 billion joining products are produced.
Manufacturing at NORMA Group
For the production of TORRO clamps alone, 6 million hose clamps with screw threads are produced each week.
Manufacturing at NORMA Group
The TORRO clamp is a multi-range hose clamp particularly well suited for applications under high mechanical stress.
I'm learning how that's done. Andreas is standing next to me at the machine. "Hi, I'm Andi," he says smiling and stretches out his hand in greeting. Andi is responsible for two machines this shift, ensuring that they run as smoothly as possible. He's been here for nearly 15 years. "You learn quite a bit in that much time," says Andi. He tells me one of the most important lessons right away: "Don't let the second machine out of sight."
A red light lights up. The second machine has stopped. A few quick movements and it's running again, the TORRO hose clamps tumbling one after the other from the belt into a big metal container. We go back to the other machine to retrofit some more.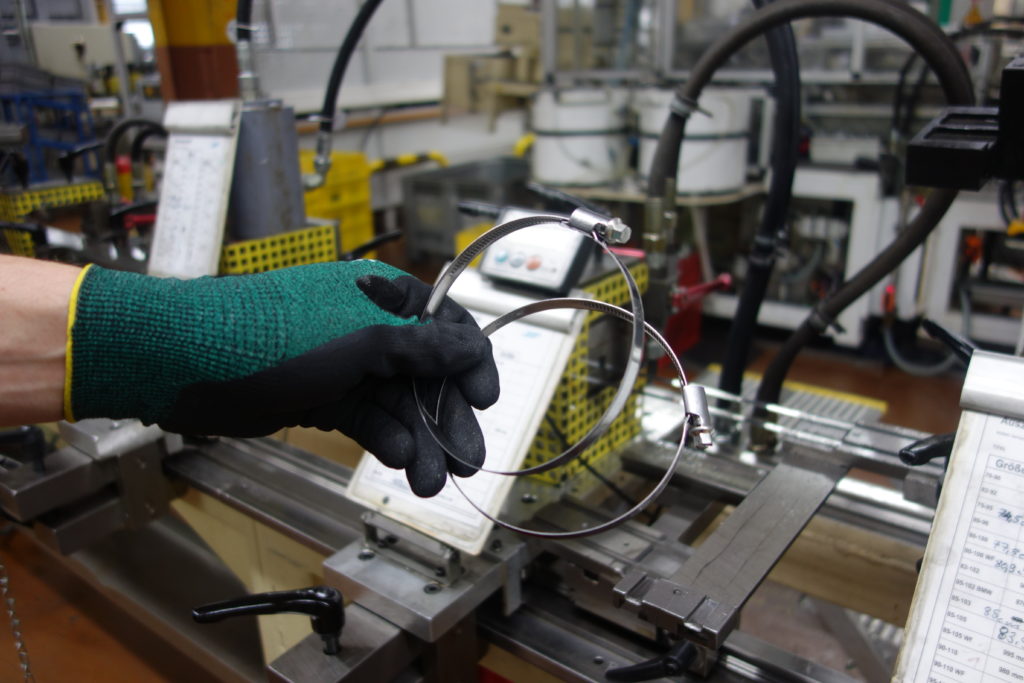 Andi turns a little on a small screw then lets the machine run for a minute. It shows an error. Andi pushes here, turns there, unscrews a whole component – a metal block – and screws it right back in again. The machine is still reporting an error. Andi curses. Sweat drips from his forehead. At that moment, the red light over on the second machine lights up again.
At half-past twelve, both machines are running smoothly. The TORRO hose clamps running down the belt of the first machine will later be equipped with a double-wave spring.
Andi can take his lunch break. So can I.