This post is also available in: Deutsch
The development of individual joining solutions that meet the requirements of our customers – this is the core task of NORMA Group's "Engineered Joining Technology" ("EJT") division. The department for Product Engineering ("PDE") is in charge of this. The colleagues at PDE develop concepts and product designs, organize the construction of prototypes, manage the testing and validation of the products and finally lead the new developments to the production stage. Speed in product development is an important factor with which we score points with our customers and save them time and therefore costs.
The close cooperation between the test laboratories and NORMA Group Product Engineering plays an important role in the effectiveness of our product development processes.
A large share of our EJT projects are realized for the automotive sector, where fluid handling systems play a particularly important role. Here, NORMA Group develops a wide range of product solutions ranging from cooling water and thermal management piping systems to systems for urea transport and individually designed mounting clamps. The technology is in constant motion, due to ever stricter emission regulations or the change towards alternative drive technologies such as electric or hybrid drives, for example. With each new development step and changed regulations, the requirements placed on the joining products and their material properties change. Against the backdrop of these great market dynamics and driven by the demand to be able to provide customers with convincing product solutions as quickly as possible, PDE initiated the establishment of systematic testing and inspection competence within NORMA Group in order to be able to quickly access profound knowledge of material properties and product behavior for product developments.
Following the establishment of the first test laboratory, NORMA Group has rolled out the successful concept of in-house testing expertise at many of its sites. Today, NORMA Group operates 13 test laboratories worldwide, which have become an integral part of our product development.
Tasks and test procedures of NORMA Group test laboratories and test benches
We carry out basic development work in our test laboratories by subjecting our products in various material designs to long-term tests – so-called lifecycle tests – and researching their behavior under various temperature and pressure conditions as well as other influences. This is because very different product properties can be achieved by varying the plastic composition of piping systems made of thermoplastics.
We use a wide range of test equipment and test benches at our test laboratories. The test procedures include tensile force tests, burst pressure, vibration and temperature tests ("Pressure- Vibration- Temperature" or "PVT-Tests" for short) as well as corrosion tests.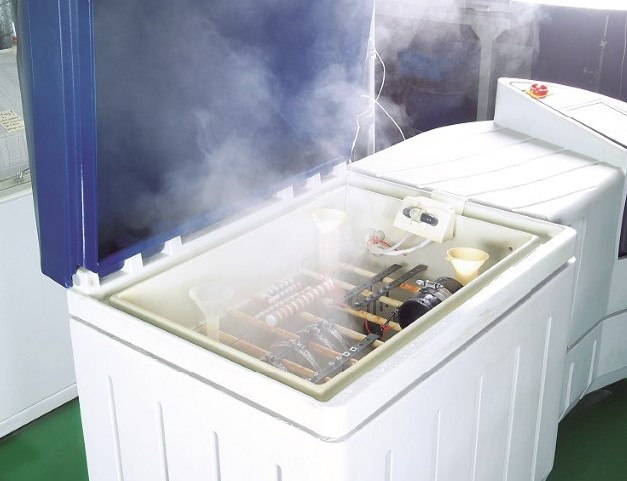 Test specimens are tested for their resistance to corrosion in the salt fog chamber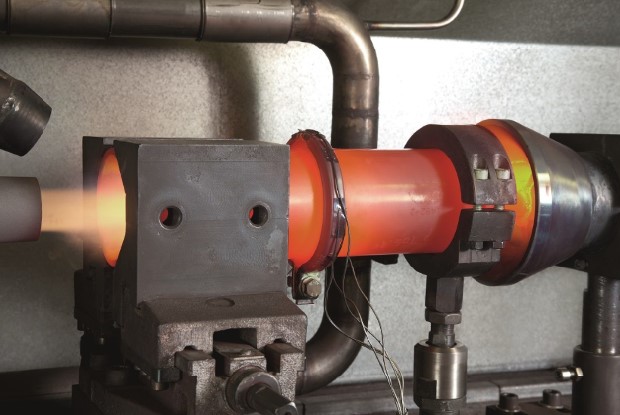 Exhaust clamp in a temperature test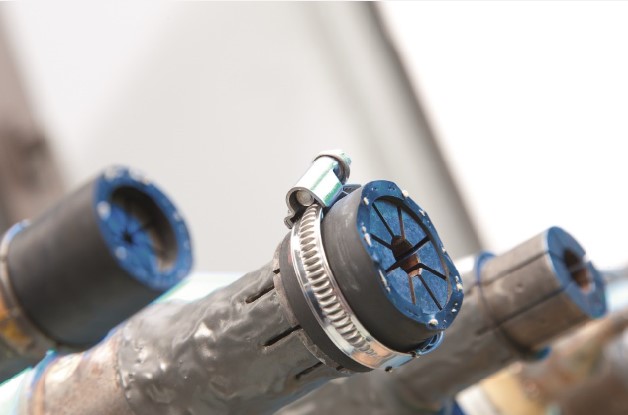 Clamping force test performed on a clamp
NORMA Group operates "PT (Pressure, Temperature) Testers," i.e. test labs at several locations specifically for testing thermoplastic piping systems for cooling water and thermal management. These test benches test how test objects react at specific temperatures and under various pressure conditions of the medium flowing inside them. In long-term tests, the aging process of the products is simulated under various loads.
Three new test rigs were installed at the plant in Pilica, Poland, alone in 2017. Each of them is 5 meters long and has impressive dimensions. They are therefore able to hold up to 840 test items each. This means they offer sufficient capacity to perform tests on test specimens in different material variants simultaneously.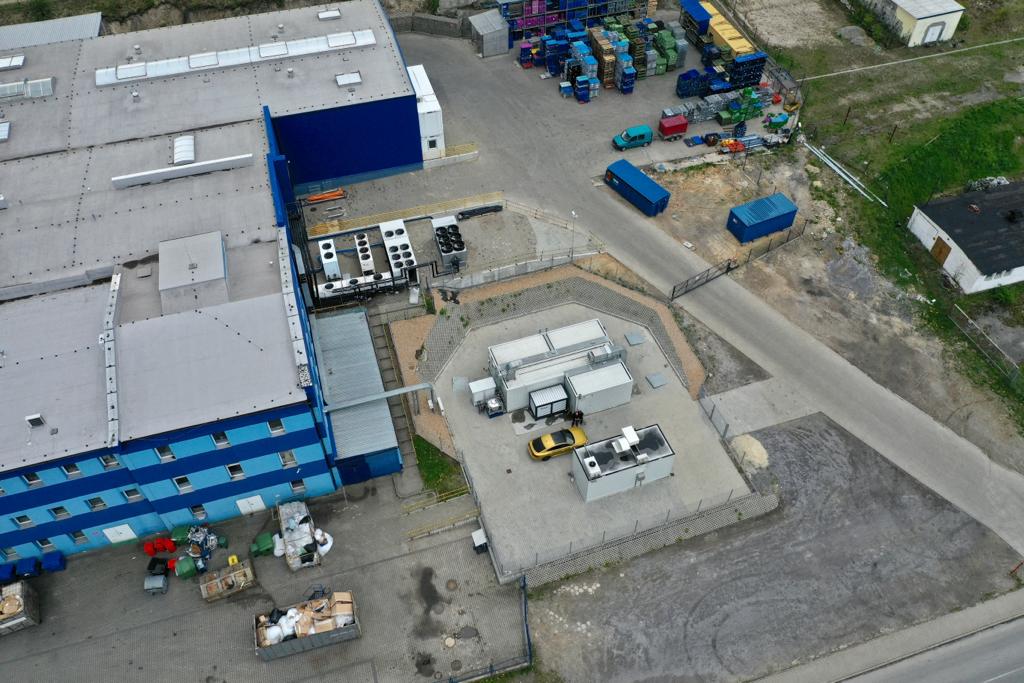 The three test benches in Pilica were erected on an open space next to the plant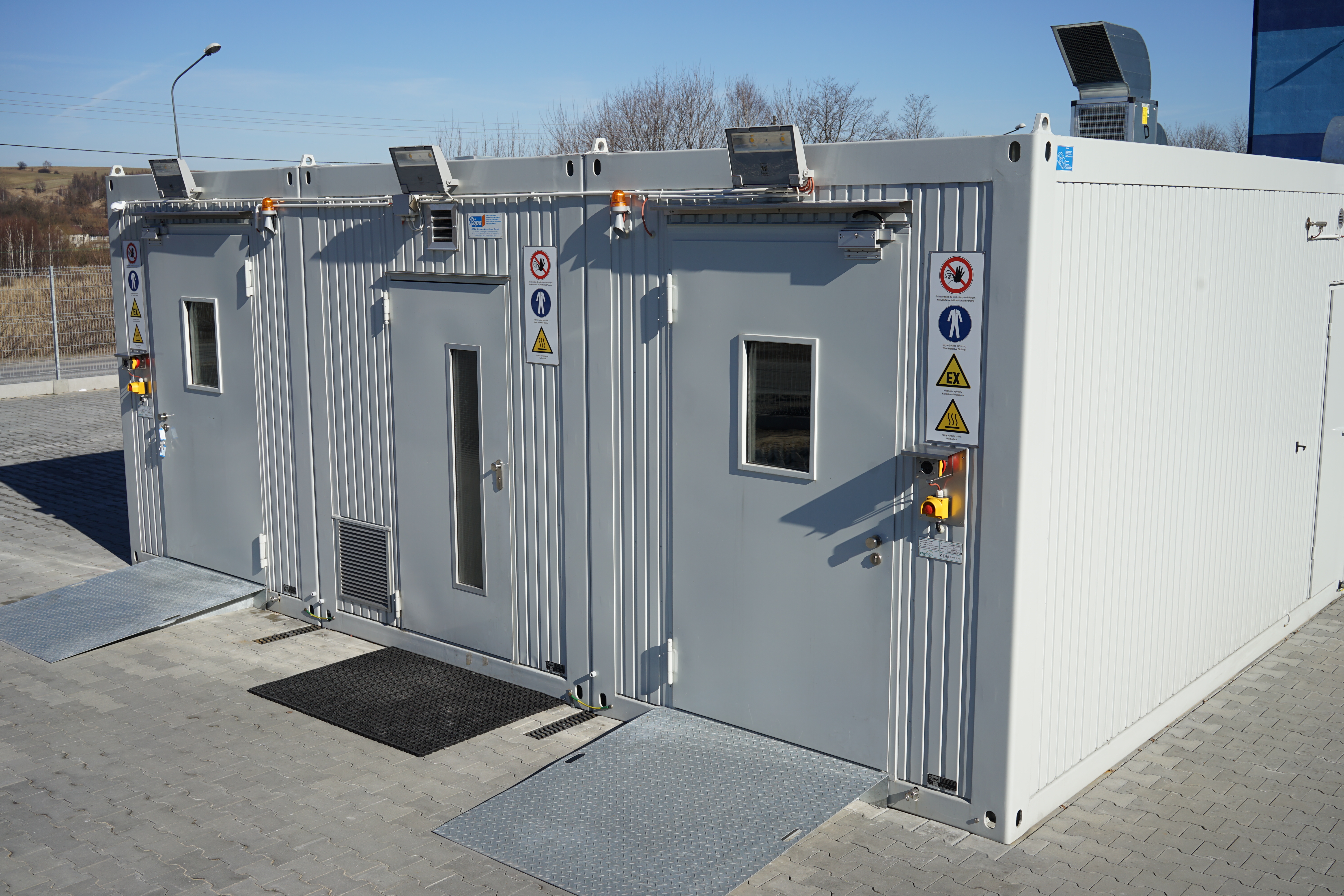 The inconspicuous containers house comprehensive test equipment
Usually, 80 to 100 test specimens per material variant are used per test cycle. The more product samples are tested in a test cycle, the more meaningful the results obtained. The test benches are designed for temperatures up to a maximum of 160 °C. Thermal management line systems for electric or hybrid vehicles are usually exposed to temperatures of up to 80 °C in the long-term tests. Cooling systems for vehicles with combustion engines are exposed to even higher temperatures in daily operation and are tested in the test benches in the range of 125 °C to 150 °C. In order to obtain objective and unaltered results, both the coolant flowing in the test specimens, a water-glycol mixture, and the surrounding air are kept at the same temperature during the PT tests. A coolant pressure of up to 16 bar can be generated in the lines for the test cycles.
In order to be able to remove test specimens for assessment and further examination, the test series are interrupted regularly and the temperatures are lowered. For long-term tests with a total duration of 3,000 hours, the test is interrupted every 500 hours; for tests with a total duration of 8,000 hours, the tests are paused every 1,000 hours to remove test items.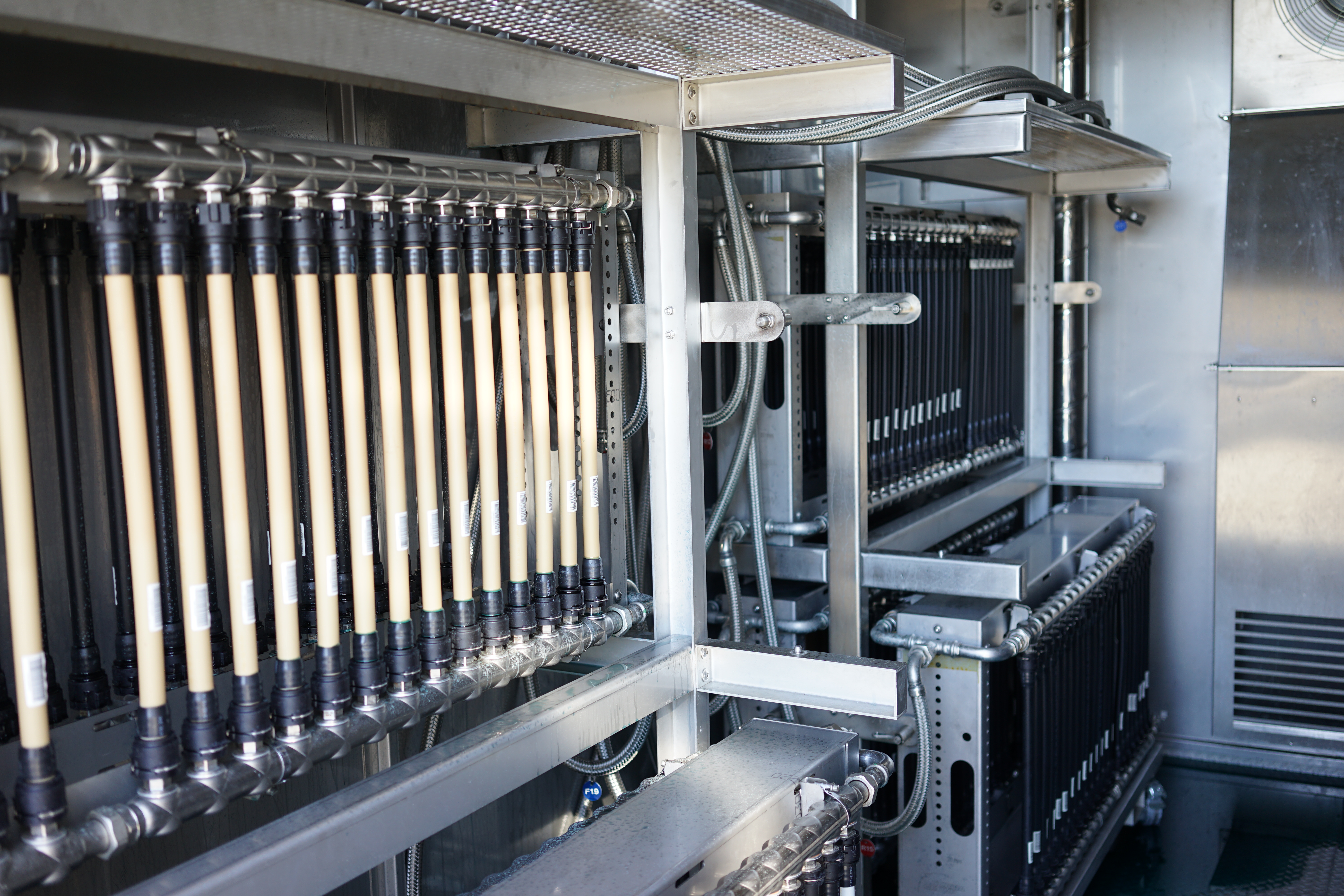 Test specimens in the test bench
Data management via online tools and software solutions
Large amounts of data are generated during the test cycles. Preparing, evaluating and archiving them is only possible with the help of the right software solutions. The measured values for all of our test benches are constantly called up and compiled online. Therefore, we always have a real-time overview of the ongoing test processes at our international sites. If you look at the volume of data generated by the many tests running simultaneously, you can see that the IT infrastructure also plays a key role in the equipment and ongoing operation of a test laboratory. Without sufficient computing power and server capacities, you quickly reach your limits.
The digital networking of our test laboratories not only helps with data collection and data evaluation, but is also crucial for cross-site cooperation and exchange of experience between the international test laboratory teams of NORMA Group. Thanks to remote access, it is even possible for engineers at one location to make adjustments to a test rig at another site.
The data obtained is also used for another important area: It is used in the computer simulation processes that are used in product development at NORMA Group and provide us with valuable insights even before we go into the complex process of prototype construction.
Test Facility Database – All material knowledge in one place
The results of our test processes converge in a comprehensive data set – our "TFDB," i.e. "Test Facility Data Base." This documents the properties of a large number of different materials, i.e. their behavior during the test cycles. The colleagues from Product Engineering draw on this comprehensive material knowledge when a customer approaches them with specific requirements. Usually, they can then suggest suitable materials that meet the customer's needs very quickly, enabling them to move quickly into prototype development and finally into series production.
"Basic development in our test labs helps us to save our customers time in product development and come up with the final product faster."
In general, we even keep several alternative material variants for specific requirements in our data archive. This enables us to quickly switch to a different material composition, if, for example, there are bottlenecks with certain raw materials. The central importance of the work of the test labs within NORMA Group is also evident from the number of different specialist departments directly or indirectly involved in the test procedures. Sales and Purchasing are involved, as are engineers from Product Design, Process Engineering colleagues from our Extrusion Competence Center and the Prototype Workshop.
Standards ensure productive cooperation and the quality of the results
Where so many departments and colleagues at different locations around the world work together, it is essential to have binding standards in all areas – from test preparation and execution to reporting and documentation. The standards and documents used today were developed jointly and all the employees concerned were trained in the procedures and tools via training courses. Regular training and especially the qualified induction of new colleagues is an important part of the work in our test labs.
For example, we trained our colleagues from Pilica in Maintal for six months before the test laboratory there went into operation in order to familiarize them with all facets of the work in the test lab.
"The comprehensive in-house testing expertise and material know-how that NORMA Group has at its disposal should not be taken for granted on the market."
The establishment of our test laboratories is part of our strategy to combine the most comprehensive expertise in the company. By doing so, we bundle knowledge and experience, optimize our development processes and promote our overall innovative strength. We thus support our customers as a competent development partner and help them to achieve the desired product in a time- and cost-saving manner.