This post is also available in: Deutsch
The future is his daily work. As Foresight Manager, Dr. Daniel Koch researches what tech trends are relevant to NORMA Group. He helps the company stay aware of changing markets and develop products today that customers will demand tomorrow, and in five years' time.
What are you working on right now?
I am currently researching information on artificial fuels and what special requirements they will pose on fuel lines in the future.
What is your job at NORMA Group?
As a Foresight Manager, my work has to do with futurology. I identify issues of the future which could become relevant to NORMA Group's product range in the coming years. That means I deal with technical developments and trends that are likely to become established on the market over the next few years. I share these findings with our global Product Managers. Decisions can be made on this basis as to which trends we will consider when developing new products. Once we have identified those, I support their development with ongoing research.
How did you come to your current position?
After studying business administration and earning a doctorate in innovation and technology management, I spent more than 10 years working for Fraunhofer Gesellschaft in the field of futurology. I conducted research there on behalf of companies as well as for public authorities.
"We are already dealing today with the challenges our customers will face in the future."
What do you like most about your job?
The nice thing about my job is that I work on new ideas every day. That means my daily work never gets boring, and always involves exciting new content. For example, I recently looked at new cooling processes for batteries in electric cars – an exciting topic for the future that is full of potential.
I particularly appreciate the lively exchange with my colleague from product development and the global Product Managers. Their expertise and knowledge of our products are essential if we are to respond effectively to future trends and translate them into marketable products.
What are the biggest challenges of your job?
One aspect is identifying future issues or trends that I believe may be relevant to NORMA Group. The challenge is to assess the business opportunities that these new developments present for the company and to underpin them with figures. After all, it is also my job to show my colleagues in product management the potential of a future idea.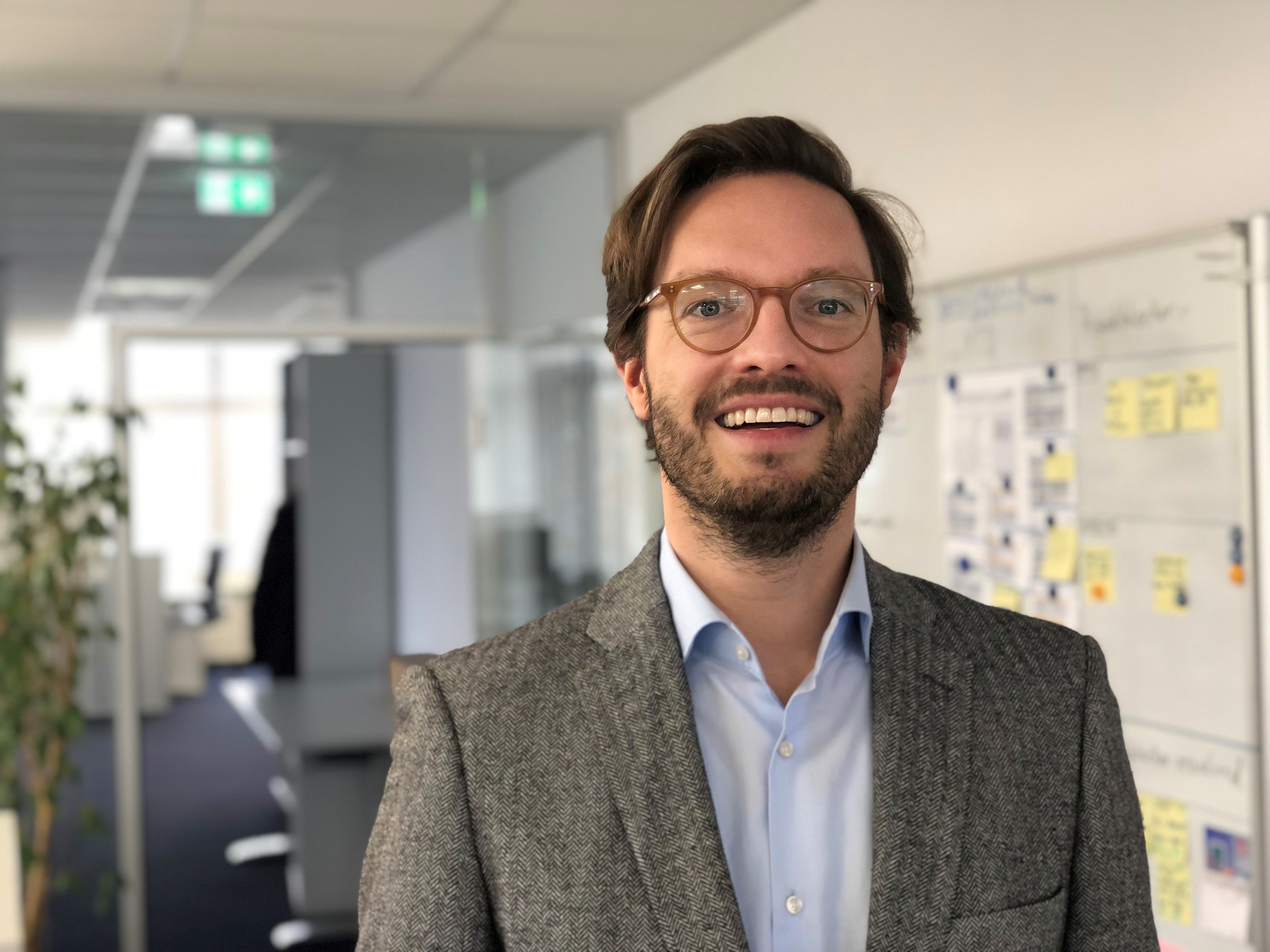 "Sometimes, the potential of a future trend only becomes apparent at second glance."
What does a typical workday look like for you?
First thing in the morning, I check our social Intranet, my emails and other important websites. Then I usually spend part of the day conducting research on the Internet. I search online for specialist articles, studies and patents relevant to NORMA Group's product range. Besides working on the computer, meetings and exchanges with colleagues make up a large part of my workday. The mixture of research, information processing and personal exchange with external experts or NORMA Group's Product Managers makes my workdays very diverse.
What skills are most important for your job?
A certain openness and freedom from prejudice are very helpful for approaching new topics. To give just one example, despite the trend towards electromobility, I am also following new developments in the field of combustion engines because there are also important changes there that have future potential.
A certain perseverance and an eye for detail are also important in my job. Sometimes, the potential of a future trend for NORMA Group only becomes apparent at second glance. When it comes to autonomously driving passenger cars, for example, you don't necessarily think of joining technology right away. But now consider how important it is to clean certain sensors in self-driving cars. If these sensors are dirty, the car can't drive – it's blind, so to speak. I then ask myself what solutions NORMA Group could offer for such problems.
Definition of Foresight Management:
Foresight management or futurology takes a methodical, structured look into the future to gain insight into possible future developments in technical, economic or social fields. Available information is systematically evaluated and dialogue with experts sought. Foresight management and futurology use qualitative and quantitative methods.
How far do you look into the future?
The period analyzed depends on the respective product. While the time horizon for products with rapid development cycles, e.g. smartphones, is short and only around one year, in the automotive sector, for example, the time horizon is 3, 5 or even 10 years.
What sources of information do foresight management and future research use?
Foresight management and futurology largely rely on the research and evaluation of studies, scientific publications, patents, legal specifications and company publications. Equally important, however, are engaging in exchanges and networking with relevant experts.
What methods are used in foresight management and futurology?
Common methods in futurology are STEEP, PEST or PESTEL analysis. These acronyms stand for the factors and topics that are included in the variously comprehensive analyses. While the PEST analysis takes political, economic, social and technological factors into account, related analyses consider other factors:
PEST Analysis: Political, Economic, Social, Technological
STEEP Analysis: Social, Technological, Economic, Environmental, Political
PESTEL Analysis: Political, Economic, Social, Technological, Environmental, Legal
What career did you dream of as a child?
Originally, I wanted to become a psychologist. When I look back, I always wanted to do something with and for people. For example, I used to sell olives at the farmers' market and I really enjoyed sharing ideas with customers. It's fitting that I still see myself as a service provider today. Today, my "customers" are NORMA Group's global Product Managers.
What do you do in your spare time?
I have a young daughter, so I spend a large part of my free time with my family. I also enjoy reading and am personally interested in current developments and technical innovations. So I frequent the same news sites and online portals in my spare time as well.
Please complete this sentence: I love my profession because ...
... I can deal with the future every day.