This post is also available in: Deutsch
David Schneider has been working as a PDE Simulation Engineer at NORMA Group headquarters in Maintal since 2019. He dealt with simulations at NORMA Group as part of his master's thesis. In this interview, he talks about what exactly a simulation expert does and what simulations are used for.
David, what exactly does a simulation expert do?
When friends and acquaintances ask me what I do for a living, I generally tell them that I'm a problem solver for engineers. In NORMA Group's simulation department, we help our colleagues develop and optimize products and solve technical problems. As a simulation expert, I look at ways to reduce weight, increase resistance and minimize pressure loss, among other things. These are all aspects that make our products more efficient and more sustainable.
If a specific problem can also be solved analytically, then I write equations and solve them by hand. But there are a lot of problems that can't be solved analytically. In such cases I use different methods to create numerical models. This results in systems of equations with many unknowns and to solve them I need the help of computers. I then analyze the results and check them for plausibility. Based on the results, I can let my creativity flow and develop solutions that can be pursued within the framework of the task.
How is your team structured? And what tasks do you do within the team?
The simulation department consists of a core team of full-time simulation experts who perform complex calculations and coordinate NORMA Group's global simulation activities. I have been part of this team since 2019. There are also some engineers who are called "satellites" in our team who work on simulations on a part-time basis. They are, so to speak, remote units of the simulation department that create product-specific simulations in their respective local teams. The core team – currently Daniel Kintea and myself – then assist with the execution and evaluation of the simulation.
We are a very small team, so we are all in a position to take on the various tasks that are required. Generally speaking, my primary task is to perform and analyze numerical simulations. This also includes summarizing the results in the form of reports, meetings with the development teams, making suggestions for improvements as well as preparing patent proposals for new innovative product solutions. 
What role do simulation processes play at NORMA Group? And where are they used?
Simulation processes can be used in a number of areas and phases. Our team conducts simulations for products in Engineered Joining Technology (EJT), Water Management and General Industrial Business, among others. The simulations support research and development of new products as well as optimization of existing products. In addition to developing and optimizing products, our simulations can also be used to improve tools or manufacturing processes. One example is a major project to optimize a furnace that is used for thermoforming.
Can you explain the simulation process using a product as an example?
We analyze a lot of products in terms of pressure loss optimization. This is because pressure loss is an important quality feature and sales argument, especially in the field of electromobility. In electric vehicles, every gram and every possible way to save energy counts when it comes to making the vehicle even more efficient. Our "90° PS3 Quick Connector" is used in many electric vehicles and has a significant share in the pressure loss in the overall system. We therefore analyzed this using flow simulations and examined how we could make the fluid that is pumped through the connector by the pump flow even more efficiently. We then submitted our results in a report to the responsible colleagues, who implemented our optimization proposals. As a result, our simulations are helping to make electrical vehicles even more efficient and increase their range.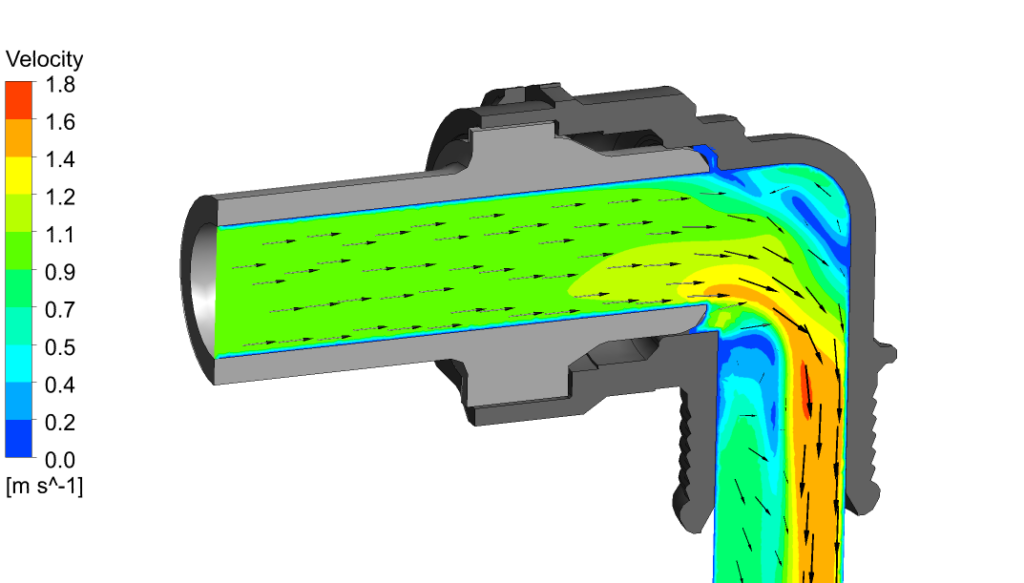 Flow simulation for a 90° PS3 Quick Connector
What project are you working on at the moment?
Right now I'm working on a number of different projects. Among other things, I'm looking into how we can use the eM Twist, a connector for electric vehicles, in different sizes while optimizing resistance and pull-off force. The focus here is on achieving a maximally robust and safe product solution while minimizing the use of resources. 
I am very grateful for my work because it is so varied and exciting. I have an opportunity to take on new, complex and technical challenges every day.